February 27, 2006 -- Ronald Davis Studio announces that Davis's painting Ring, from the remarkable resin and fiberglass Dodecagon series of 1968-69, will be on display in the central lobby of the Museum of Modern Art (MoMA) in New York City through September, 2007. MoMA acquired the painting from Leo Castelli Gallery in 1968, where Davis had his first New York exhibition of the illusionary shaped Dodecagons.
MoMA's chief curator, John Elderfield, has had Ring restored by Julia Day, a young woman who is establishing herself as an expert in the restoration of polyester resin and plastic artwork. Ring was known to have been chipped, but now appears pristine.
Ring exemplifies the style art historian Barbara Rose has classified "abstract illusionism," prompted by the synthesis of Davis's uncanny talent for spatial illusion and his sophisticated color and paint techniques. Rose, in a catalog essay accompanying Davis's 1988 Dodecagon retrospective at BlumHelman, Los Angeles, wrote: "[The Dodecagons] continue to intrigue the spectator not as novelty, but as a successful attempt to keep abstract art alive in an age where it seems superannuated. Ronald Davis's Dodecagons remain an unforgettable and still valid high water mark in the recent history of modern painting."
The painting is one of the museum's classic holdings capable of heroically occupying MoMA's new, oversized expanses of wall. Public opinion varies, but the overwhelming scale of architect Yoshio Taniguchi's central atrium and vast, lofty upper floors of the new MoMA have been criticized as an attempt to dwarf artists and their art. Nevertheless, Ring proves itself a powerful illusionary object that holds its own in a space obviously meant to wield the illusion of power.
Ronald Davis has been exhibiting his work since 1963 and has had a total of 66 one-man shows in major international galleries and museums. His work has appeared in countless major group exhibitions and his paintings acquired by important museums and private collectors around the world. Davis's considerable originality and ongoing innovation, making provocative use of modern materials and digital tools, continue to mark him as one of the distinguished 20th century modernists and a contemporary nexus of abstract expressionism and hard-edge illusionism.
Davis continues to work in Arroyo Hondo, New Mexico, constantly probing new technology and developing new techniques. His most recent series of "Pixel-Dust" paintings fused on aluminum, which includes several new iterations of dodecagon shapes, may be seen on his website and at New Gallery / Thom Andriola, Houston, Texas. New Gallery also recently mounted an exhibition of Davis's 1981 "Flatland" series which continues through March 2007.
Davis will also be included in a group show in May, 2007 at the new Eight Modern Gallery in Santa Fe, New Mexico, where he will be represented. A one-man exhibition is planned for July.
For biography, bibliography, and an image repository of Ronald Davis's available artwork, please visit: www.irondavis.com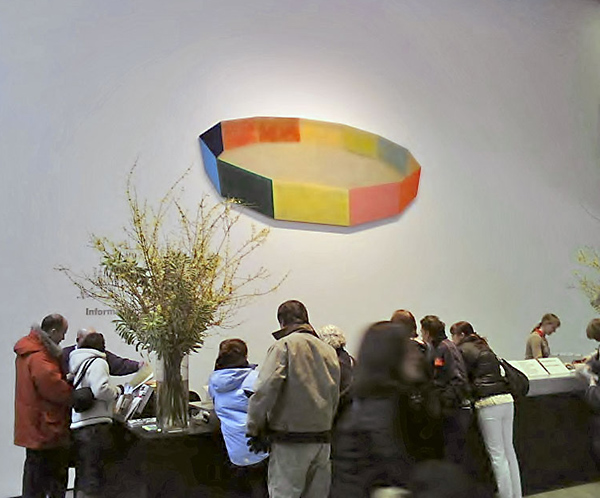 Ciick to view the 1968-69 Dodecagon Series > here.
Photo: Thom Andriola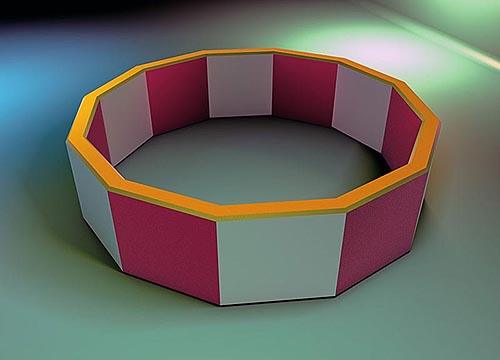 mpt1035h, Dodecagon Ring II, 2006. 47 1/2 x 66 inches. Heat fused pixel dust on white aluminum.
Ciick to view Ronald Davis's new work > here.
Click to view the exhibition of Flatland paintings at New Gallery / Thom Andriola, Houston, > here.